#grayscale")}@media not all,not all{.jheKTq{display:flex}.jheKTq img{margin-right:10px}}.eMFtXj{text-decoration:none;outline:0;background:0 0;height:100%;color:#1f3040;font-family:Roboto;font-size:16px;line-height:19px;display:grid;grid-template-columns:90px 100px;gap:0 10px;-webkit-box-align:start;place-items:start;transition:all .3s cubic-bezier(.15,.82,1,1) 0s}.eMFtXj img{width:100%;border-radius:12px;transition:all .3s cubic-bezier(.15,.82,1,1) 0s}.eMFtXj span{text-align:left;font-family:Roboto;font-size:16px;line-height:19px;margin-top:10px;padding-right:30px}.eMFtXj:hover{color:#006dbc}.eMFtXj:hover img{box-shadow:rgba(31,48,64,.2) 0 10px 40px 0}.eMFtXj:not(:hover) img{filter:url("data:image/svg+xml;utf8,#grayscale")}@media not all,not all{.eMFtXj{display:flex}.eMFtXj img{margin-right:10px}}.gQckuN{text-decoration:none;outline:0;background:0 0;height:19px;color:#fff;display:flex;align-items:flex-start;width:max-content;-webkit-box-pack:center;justify-content:center;font-family:Roboto;font-size:16px;line-height:19px;font-weight:400}.gQckuN:not(:last-child){margin-right:30px}.dZUHMD{z-index:998;position:absolute;top:0;left:0;width:100%;height:100vh;background:url(/static/media/menu-mobile.b0222942.jpg) center center/cover no-repeat;display:flex;flex-direction:column;transition:all .2s cubic-bezier(.15,.82,1,1) 0s;-webkit-box-pack:start;justify-content:start;opacity:0;visibility:hidden}@media (min-width:1300px){.dZUHMD{display:none}}.dXNMxh{text-align:left;flex-direction:column;margin-left:20px;margin-top:100px;overflow:scroll;display:none}@media not all,not all{.dXNMxh{overflow:auto}}.CWQMf{background:0 0;border:0;text-align:left;outline:0!important}.CWQMf:focus{outline:0}.fQkkzS{display:flex;-webkit-box-align:center;align-items:center}.kRGfTa{margin-left:10px;visibility:hidden;opacity:0}.jKumZb{display:flex;flex-direction:column;height:0;visibility:hidden;opacity:0;transition:all .3s cubic-bezier(.15,.82,1,1) 0s;margin-bottom:0;margin-left:40px}.jKumZb a{color:#fff;font-family:Roboto;font-size:24px;letter-spacing:0;line-height:32px;text-decoration:none}.eNQuho{margin-bottom:7px}.hXQgjp{color:#fff;font-family:Roboto;font-size:32px;letter-spacing:0;line-height:38px;text-decoration:none;margin-bottom:7px}.fQsatj{color:#fff;font-family:Roboto;font-size:32px;letter-spacing:0;line-height:38px;text-decoration:none;margin-bottom:7px}.hXhWNW{grid-area:button/button/button/button;height:75px;width:75px;padding:1.5em;display:grid;grid-template-columns:1fr;-webkit-box-align:center;place-items:center;outline:0;border:none;transition:all .3s cubic-bezier(.15,.82,1,1) 0s;position:relative}@media (min-width:1300px){.hXhWNW{display:none}}@media (max-width:767px){.hXhWNW{position:absolute}}@media not all,not all{.hXhWNW{float:right;z-index:10000}}.jYxGEJ{cursor:pointer;height:100%;width:100%;outline:0;border:none;z-index:999}.ieBBSs{stroke:#fff;transition:all .2s ease 0s}.cUWXFh{width:100%}.bTIjTR{width:100%;z-index:997}.dAkvW{max-height:100%}@media (max-width:767px){.dAkvW{margin-left:25px}}.dAkvW img{width:160px;height:100%;margin-bottom:-60px;position:relative;bottom:28px;right:30px}.kpNwkX{display:flex;color:#fff;font-family:Roboto;font-size:16px;line-height:16px;text-transform:uppercase;padding-bottom:30px;position:relative;z-index:10}@media (max-width:992px){.kpNwkX{font-size:16px;padding-bottom:30px;margin-top:40px}}@media (max-width:767px){.kpNwkX{padding-bottom:20px}}.llnhaT{text-decoration:none;color:#fff;transition:all .3s cubic-bezier(.15,.82,1,1) 0s}.llnhaT::after{content:"";padding:0 5px;width:13px;height:10px;display:inline-block;background:url(/static/media/breadcrumbarrow.d68fa995.svg) center center/contain no-repeat}.llnhaT:hover{text-decoration:underline;opacity:.8}.gSVBBi{font-weight:900}.himZKo{animation:.5s ease-out 0s 1 normal forwards running emZDpj}.cPeUeM{width:100%;height:430px;padding:80px 160px 0;background:url(https://morritts.com/wordpress/wp-content/uploads/2020/12/Morrits-Int-Blog-December-Header-1.png) center center/cover no-repeat;display:flex;align-items:flex-start;flex-direction:column;-webkit-box-pack:center;justify-content:center;position:relative}@media (max-width:1199px){.cPeUeM{padding:80px 30px 0}}@media (max-width:992px){.cPeUeM{padding:80px 68px 0;height:276px}}@media (max-width:767px){.cPeUeM{padding:80px 20px 20px;height:auto}}@media (max-width:767px){.cPeUeM{background:url(https://morritts.com/wordpress/wp-content/uploads/2020/12/Morrits-Int-Blog-December-Header-1.png) center center/cover no-repeat}}.Atfvz{position:absolute;top:0;left:0;bottom:0;right:0;background-color:#000;opacity:.55}.ddqwbr{color:#fff;font-family:Poppins;font-size:64px;max-width:808px;line-height:80px;font-weight:700;position:relative;z-index:10}@media (max-width:992px){.ddqwbr{font-size:54px;line-height:1;margin-top:initial}}.ilFjpk{color:#fff;padding-top:20px;font-size:16px;font-family:Roboto;line-height:24px;font-weight:700;position:relative;z-index:10}.bzFknP{min-height:480px;border-radius:16px;background-color:#fff;box-shadow:rgba(0,0,0,.1) 0 20px 80px 0;overflow:hidden;display:block;text-decoration:none;transition:all .4s cubic-bezier(.15,.82,1,1) 0s;position:relative}.bzFknP:hover{box-shadow:rgba(0,0,0,.18) 0 20px 80px 0}.gnDsul{background:url(https://morritts.com/wordpress/wp-content/uploads/2020/10/Morrits-Staycation-Blog-Sept-5.png) center center/cover no-repeat;height:200px;width:100%}.gIvUkB{color:#1f3040;font-family:Poppins;font-size:32px;font-weight:700;line-height:40px;padding:10px 20px 0;overflow:hidden;text-overflow:ellipsis;display:-webkit-box;-webkit-line-clamp:2;-webkit-box-orient:vertical;opacity:1!important;visibility:visible!important}.hzOYyG{color:#1f3040;font-family:Roboto;font-size:16px;line-height:24px;padding:16px 20px 24px}.hzOYyG ul{display:none}.hzOYyG p{overflow:hidden;text-overflow:ellipsis;display:-webkit-box;-webkit-line-clamp:4;-webkit-box-orient:vertical;opacity:1!important;visibility:visible!important}.hzOYyG :not(:nth-child(1)){display:none}.ixhYkJ{text-transform:uppercase;display:flex;-webkit-box-pack:justify;justify-content:space-between;padding:0 20px;font-family:Roboto;font-weight:700;position:absolute;width:100%;bottom:20px}.fCScCA{color:#1f3040;line-height:24px;font-size:12px}.cdMjkg{color:#006dbc;line-height:24px;font-size:16px;text-decoration:none}.cSEwuL{padding:60px 165px 100px;display:grid;grid-template-columns:115px 1fr;column-gap:75px}.cSEwuL ul{padding-left:20px}@media (max-width:1199px){.cSEwuL{padding:60px 30px 100px}}@media (max-width:992px){.cSEwuL{grid-template-columns:1fr}}.jHZRpY{max-width:732px;color:#1f3040}@media (min-width:1441px){.jHZRpY{max-width:unset}}.edWcep{display:flex;flex-direction:column}.cSPLsq{color:#1f3040;font-family:Roboto;font-size:16px;font-weight:400;line-height:24px;text-transform:uppercase}.esLljD{font-family:Poppins;font-size:32px;font-weight:700;line-height:48px}@media (max-width:992px){.esLljD{font-size:24px;font-weight:700;letter-spacing:0;line-height:34px;margin-bottom:15px}}.eoClIJ{font-family:Roboto;font-size:16px;line-height:30px;padding-top:25px}.eoClIJ p{padding-top:30px}.eoClIJ a{font-weight:600;color:#006dbc;text-decoration:none}.hfApKq{position:relative;margin-top:10px;z-index:700}.iSZdtI{height:42px;width:42px;background-color:#fff;display:flex;-webkit-box-align:center;align-items:center;-webkit-box-pack:center;justify-content:center;border-radius:50%;cursor:pointer;margin-bottom:10px;box-shadow:rgba(31,48,64,.1) 0 10px 20px 0;transition:all .3s cubic-bezier(.15,.82,1,1) 0s}.iSZdtI:hover{box-shadow:rgba(31,48,64,.2) 0 10px 20px 0}.eWPzbx{width:170px;border-radius:16px;box-shadow:rgba(0,0,0,.1) 0 20px 80px 0;background-color:#fff;margin-left:.5px;position:absolute;overflow:hidden;transition:all .2s cubic-bezier(.15,.82,1,1) 0s;top:-190px;z-index:4;visibility:hidden;opacity:0}.eWPzbx button{margin-right:12px;opacity:1;transition:all .2s cubic-bezier(.15,.82,1,1) 0s;height:100%;width:100%;background-color:#fff;display:flex;-webkit-box-align:center;align-items:center;padding-top:4px!important;padding-bottom:10px!important;outline:0!important;padding-left:30px!important}.eWPzbx button:hover{background-color:rgba(0,109,188,.05)!important}.eWPzbx button svg{margin:5px 0;width:30px}.eWPzbx button img{width:30px}@media (max-width:992px){.eWPzbx{top:-190px}}.erxJUO{display:block;bottom:62px;left:12px;visibility:hidden;opacity:0;z-index:4;height:20px;width:20px;border:inherit;position:absolute;clip-path:polygon(0 0,100% 100%,0 100%);transform:rotate(-45deg);border-radius:0 0 0 .25em;background-color:#fff;transition:all .3s cubic-bezier(.15,.82,1,1) 0s}@media (max-width:992px){.erxJUO{bottom:85px;position:relative}}.jEOncG{padding:60px 165px;background-color:rgba(208,220,232,.2)}@media (max-width:1199px){.jEOncG{padding:60px 30px 100px}}.jEOncG .slick-slide{padding:0 30px 0 0;border-radius:16px;display:block!important}.jEOncG .slick-slide>div{border-radius:16px;display:block!important}.jEOncG .slick-slide>div>div{background:#fff;box-shadow:rgba(0,0,0,.02) 5px 5px 5px 5px;padding-bottom:20px;border-radius:16px;display:block!important}.jEOncG .slick-slide a{text-decoration:none;display:inline;background:#fff}.jEOncG .slick-slide a>div{border-top-right-radius:16px;border-top-left-radius:16px}.gYrKKP{color:#1f3040;font-family:Poppins;font-size:32px;font-weight:700;line-height:48px;padding-bottom:50px}@media (max-width:992px){.gYrKKP{font-size:26px;font-weight:700;letter-spacing:0;line-height:32px;margin-bottom:-30px}}.hhXHkv{font-family:roboto;padding:60px 165px;background-color:#1f3040}@media (max-width:992px){.hhXHkv{padding:60px 40px}}@media (max-width:767px){.hhXHkv{margin-top:60px;padding:0 40px 20px}}.cdfpMG{display:grid;grid-template-columns:1fr 1fr;-webkit-box-align:center;align-items:center;-webkit-box-pack:justify;justify-content:space-between}.hGapAa{font-family:poppins;justify-self:flex-end;font-weight:600;color:#fff;font-size:32px;line-height:32px;text-decoration:none}.bhDCZo{display:flex;-webkit-box-pack:justify;justify-content:space-between;padding-top:20px}@media (max-width:767px){.bhDCZo{display:grid;gap:30px 30px}}.bvJei{padding-left:0;list-style:none}.ibuOQm{color:#fff;font-family:Roboto;font-size:16px;line-height:32px;max-width:240px}.ibuOQm a{text-decoration:none;color:#fff;transition:all .3s cubic-bezier(.15,.82,1,1) 0s}.ibuOQm a:hover{opacity:.7}.ibuOQm span{display:inline-block}.ejLflY{text-decoration:none;color:#fff;transition:all .3s cubic-bezier(.15,.82,1,1) 0s}.ejLflY:hover{opacity:.7}.gJhOSj{text-decoration:none;color:#fff;transition:all .3s cubic-bezier(.15,.82,1,1) 0s}.gJhOSj:hover{opacity:.7}.kIrMbp{display:inline-block}.iBA-dpN{margin-bottom:5px}.bXSvFU{margin-top:30px;color:#fff;opacity:.4}.eRAjIY{position:relative;left:10px}@media (max-width:767px){.eRAjIY{position:relative;right:15px;left:unset}}@-webkit-keyframes emZDpj{0%{opacity:0}100%{opacity:1}}@keyframes emZDpj{0%{opacity:0}100%{opacity:1}}
Written By Morritt's
Things to See and Do Around Morritt's
The eastern districts of Grand Cayman are the least populated on the island, however they are full of activities for the whole family to enjoy. Here's a selection of the attractions that are just a short drive away from Morritt's. 

Cayman Parrot Sanctuary
Located just before Tukka restaurant on Austin Connolly Drive, the Cayman Parrot Sanctuary is one of the island's newest attractions but it is already growing in popularity. As the name implies, the facility is a place where injured Cayman parrots (the Islands' national bird) can be rehabilitated with the ultimate goal of being released back into the wild. The sanctuary offers a fun, interactive and educational experience where families of all ages can see, hold and feed a variety of Cayman's native animals.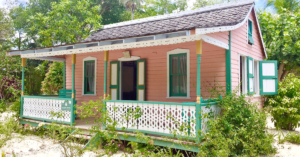 Queen Elizabeth II Botanic Park
The Queen Elizabeth II Botanic Park showcases the best of Cayman's natural beauty, where guests can enjoy guided or self-guided tours through colourful gardens, botanic, lake and nature displays. You might even see an endangered blue iguana or two, which roam freely throughout the park. They are found nowhere else in the world — only in the Cayman Islands! 
Tukka Restaurant & Bar
Visit Tukka for a casual Australian and Caribbean fusion lunch or dinner any day of the week while taking in the calm sea views from their deck. Kids will also enjoy watching the Frigate Bird feedings that take place daily at 5:00pm!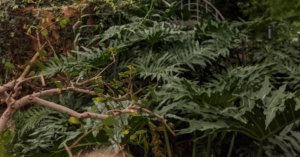 Mastic Trail
If you're feeling especially adventurous, grab your hiking shoes and water bottle for a 2.3-mile hike through the Mastic Trail to see some of the last remaining untouched old-growth forests of the Caribbean as well as several species of birds, reptiles and insects that live within the reserve. Guided tours are also available.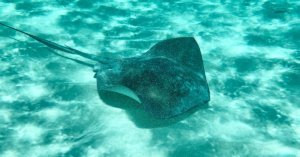 Rum Point & Kaibo
Enjoy a fun day at the beach in North Side at Rum Point Club or Kaibo. Both locations offer casual beachside restaurants and bars, loungers and watersports activities. Kaibo also has a coffee shop and a fine dining restaurant for dinners. From Rum Point you can catch a catamaran to visit world famous Stingray City, where you can swim and touch the rays.
Starfish Point
A short walk from Kaibo on Water Cay Road, Starfish Point is a popular destination for these special creatures to naturally congregate in the shallow waters. Just be sure to not remove any from the water when you pay them a visit!  
Cayman Crystal Caves
A guided walking tour through the Crystal Caves and flora and fauna of the surrounding tropical forest will not disappoint!  
Bioluminescence Tours
Kids and adults alike will delight at this glowing natural wonder in the Bio Bay. Night tours are available via kayak or boat where you will be able to view the natural splendour of glowing dinoflagellate plankton that twinkle like stars at the slightest movements in the water. The tour companies go out only when the moon phases are favourable and some provide gear for you to swim in the water to see the magic up close.
Of course, Morritt's is packed with on-site activities and amenities including watersports, swim-up pool bars, diving and snorkelling – so you never have to leave the resort! Be sure to check out our daily activities programme, which includes a little fun for everyone!